If you're like most of us, one of your major expenditures during retirement is generally for prescription drugs. The prices are high now and going higher every year. In 1999, I happened to be in Yuma, Arizona and happened upon a little town named Algodones, Mexico, just down the highway a little and across the border from Yuma. In Algodones, I found that all types of drugs, prescription or over-the-counter, were much cheaper than in the good old USA. I also found that, at that time anyway, you could get them without having a prescription with you. There was a doctor right in the pharmacy, willing and able to write whatever prescription you claimed to need. I bought a year's worth of all the prescriptions that my wife and I used at that time. These prescriptions, which cost about $1200 at Walmart, were only $300 in Mexico. You can read all about this adventure and get more info on buying prescriptions from Mexico on my Travel Log chapter entitled About Farmacia Algodones.
Since then, I've done a good bit of investigation into various options for getting prescriptions drugs more cheaply than just depending upon the low prices at Walmart. Thus far, I've come up with Costco in the USA and three drugstores in Canada: The Canadian Drug Store, Canada Drugs, and Canada Drug Center. Below you'll see logos with links. You can click on each to go check out their prescription prices.
2016 Update: Costco listed all their prices online in 2006, but now I go there and can't find them. I assume they're still doing that cheap prescriptions thing, but don't use it myself. Regarding the Canadian links, I've not used them either, but the websites have been there for over 10 years, so maybe they're reliable.

If you have any problems ordering through any of these websites, or if you find others that give deals as good or better, please email me at rjhoffman@yahoo.com and let me know.
You're also invited to check out chapter 8 of my book Retire and Travel - 20 Years Later, entitled Reducing Medical Expenses. There, I go into various approaches to saving on medical insurance, alternatives to consider, what I'm doing, and of course, Mexican and Canadian Drugs.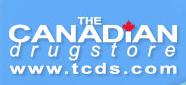 Cheap Drugs

Nothing in this site is copyrighted -- I'd be honored if you'd

reuse anything you find here for your website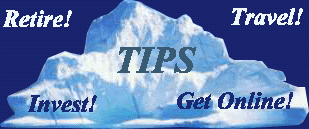 Saving Money on Prescriptions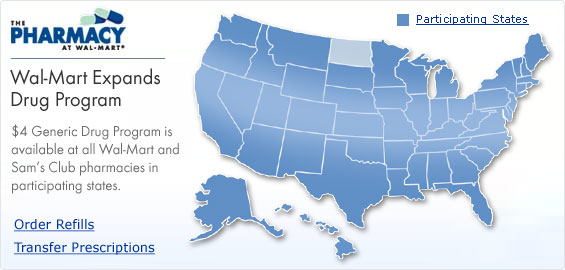 Well, it's 2006 and Walmart has trumped them all. In all states except ND, you can now refill many generic drugs at $4 for a 30-day supply! Costco does something similar, so check them out also! Click the Walmart graphic to read about it. Click here to open a printable list of drugs.

2011 Update: I recently learned more about Walmart vs Walmart vs Costco. I went to buy a 90-pill prescription of Simvastin (Cholesterol reducer) at Walmart in Florida and learned it was $48. Instead, I got it from the VA for $24. Later, I found that at Walmart in Fort Payne, Alabama, it was only $12. When I asked Walmart, they said that their prescriptions are different prices at different locations. Here's the Zinger! I later checked Costco  and found I could get a year's supply, 360 pills, for only $25! Wow! I had to drive 40 miles to Orlando to get to a Costco, but it was well-worth the trip.