Today (12/20/99) I made the decision -- going to bite the bullet, spend the $100, and go stay awhile at one (or more) of the Long-Term Visitor Areas (LTVAs). I drove up I-8 West of Yuma today and checked out the Tamarisk LTVA and Hot Spring LTVA. As I mentioned in Chapter 4, Pilot Knob LTVA is a treeless, dusty, flat desert with no apparent merits other than its close proximity to Yuma and Algodones. It looks to be a couple of miles deep (South of I-8) and several miles long parallel to I-8. Tamarisk is quite different -- it's about as big as a football field and is surrounded by trees.  Mesquite, Salt Cedar (also called Tamarisk), and Creosote Bushes. There were only about 5 or so RVs there, so a person could generally choose shade, sun, or a combination of the two for a parking spot. It looked like a nice, friendly place to spend Christmas. Hot Spring, on the other hand, is quite large and has a variety of terrains to choose from. Many trees and several square miles on both sides of I-8. There's also a free area there, but it's quite far off the road and the ground is sandy enough that I'd rather not pull the 5th wheel into it. Although rather crowded already, Hot Spring LTVA looked like it still had a number of nice spots to choose from where one could have privacy and get the desired feeling of "roughing it in the wilds". There's also a very nice hot spring there about the size of a couple of hot tubs. The hot water comes out through a pipe with holes that can be turned around to use for a shower. All in all, a very nice setup for the dusty desert days ahead. Looks like the place I want to try to boondock in for a couple of weeks until Quartzsite gears up in early January. So, I plan to leave Yuma in the morning and head up to Tamarisk.

To supplement the internet LTVA map, here's the mileage for anyone who's interested. From Yuma, it's 5 miles West on I-8 to the Algodones (Mexico) exit. Then 3 more on I-8 to Sidewinder Road where you'll find Pilot Knob LTVA and a 14-day free area. 4 more to Ogilby Road where the 14-day free areas are located and the beginnings of the Imperial Dunes Recreational Area -- a large area of very high, large sand dunes that are the first real desert-looking terrain that I've seen yet. Looks like the Sahara Desert scenes I've seen in movies. Some camping allowed there, but mostly for 4-wheel drive vehicles only. 3 more miles and you're right in the middle of the dunes -- now 19 miles from Yuma. There's a rest area there, if you want to stop and photograph the dunes. Scroll down for dunes pictures.
After 10 more miles on I-8, the SR 98 exit takes you to the Tamarisk LTVA. Take SR 98 on the South side of I-8 for about 2 miles and you'll (maybe) see a very small brown LTVA sign on the right side of the road. There's also a very large white sign on your left where you turn saying "All-American Canal Hydro-Electric Plant". Get back onto I-8 and go 10 miles after that and you reach the 115 North exit -- go back East on the frontage road (Old Highway 80) for a couple of miles to the Hot Spring LTVA. For those who can't add, that's 39 miles from Yuma. But now you're close to a small town called Holtville, where there's a dump station, water, and propane. You're also close to El Centro, California (17 miles ) and then 7 miles South of there, you get to Mexicali, Mexico, with pharmacies, shopping, etc. as good as Algodones.

So, tomorrow starts my LTVA experience. Unless I run into a convenient internet connection, there'll probably be no more updates here until 2000. Good luck on your Y2K!



My Travel Log

Nothing in this site is copyrighted -- I'd be honored if you'd

reuse anything you find here for your website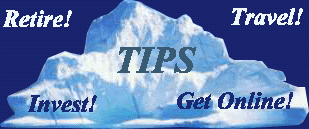 5. Biting the Bullet -- LTVA Time!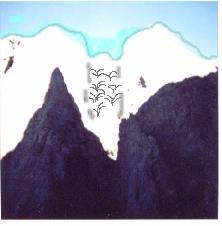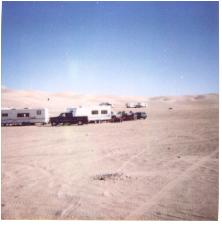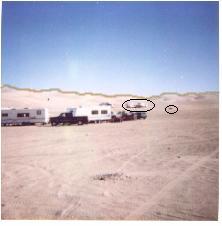 LEFT: Imperial Dunes Recreation Area: Huge sand dunes extend 30 or more miles North of I-8. Shown here is a small parking area with a few campers there. Again ... bright background, etc.

RIGHT: Imperial Dunes Rec Area (edited): I drew in the dunes on the horizon and circled a couple of campers in the distance and the ATV I was trying to get a picture of.