If you get on I-10 East out of Quartzsite, you can plan on seeing alot of desert. Under other circumstances, I'd probably have been stopping every now and then to take pictures. As it was, I'd just spent two months among the Saguaros and mountains, so I pretty well just drove through most of it. I took these two at a rest stop somewhere in eastern Arizona -- the size of these boulders and the precarious way many of them appear to be balanced has always intrigued me.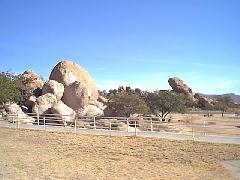 As I came across toward El Paso, I had a couple of surprises. My first night, I perused my Passport America campground book and found the LowHi Ranch in Deming, New Mexico where I could stay for $9.50 with the Passport discount. Sounded good to me, so that's where I went. On arrival, I immediately was struck by how friendly all the people were. They had a 4:00 "happy hour" in the clubhouse which I attended and was hugged 4 or 5 times on the way in the door. I just put this off to the fact that it was also an Escapee park and the Escapees are famous for their hugging. I sat around and talked to some of them for an hour or so, then retired back to my camper. Several hours later, as I watched TV for the first time in quite awhile (didn't have enough electricity in Quartzsite to run the TV), I decided to read the campground brochure that I had picked up at the tourist info place in town. I had noticed they all were wearing LoW badges and meant to ask about them, but had forgotten. From the brochure, I learned that's the acronym for Loners on Wheels! What's more, the Hi part of the campgound name was for Headquarters International. I was staying at the international RV singles club! ... lol ... no wonder everyone was so friendly. And I then knew why one of the guys made it a point to announce that I had mentioned that I was married -- I guess he was warning everyone that there was an alien in their midst. Well, they were a nice bunch, but I decided I'd feel more comfortable elsewhere so I moved on out the next morning. I spent the next night in another Passport park in Alpine, Texas, but that's another chapter.
East of El Paso, I began seeing billboards advertising the world's largest Harley-Davidson dealer. Well, I guess I've always been a fan of motorcycles, so to see the largest collection of Harleys in the world seemed like a worthwhile stop. It also occurred to me that this might make it up to my Harley aficianado friend in Florida to whom I felt I owed an apology for not getting a picture of the Harley-Davidson Cafe in Las Vegas. So I stopped. Wow! They had over 300 new Harleys, as well as a large bunch of used ones. Scroll down to see alot of motorcycle pictures. btw ... for you motorcycle freaks -- did you know they don't wear helmets in Arizona? Seeing guys riding around with the wind blowing through their hair reminded me of the 50's when we all rode that way. The amazing thing to helmet-proponents is that you really don't see very many helmets in Arizona -- guess people don't wear them for their own protection, except protection from laws forced on them by greedy insurance companies. Sorry, about to get on a soapbox ... lol.

Here it is -- Barnett Harley-Davidson in El Paso, Texas, just off of I-10 (at exit 29 if I recall correctly). Left below is the front entrance, center is the long line of used cycles out front -- there were an equal number down the side. I don't think I saw a single one that I wouldn't love to have. Inside, it was chrome as far as the eye could see ... lol. I just took some shots to try to show the variety they have.



16. El Paso: Bikes Galore

My Travel Log

Nothing in this site is copyrighted -- I'd be honored if you'd

reuse anything you find here for your website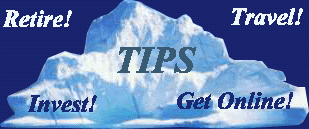 Click any photo for a larger view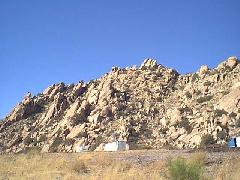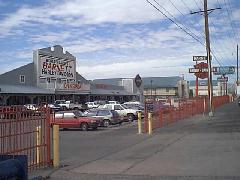 For example, the gold and black one with the snake on the gastank (left below) caught my eye. Below center, now here's a great "old guy's" bike -- wouldn't have to worry about it falling over on me. I think most of these larger ones weigh around 2000 pounds. Believe it or not, I later saw a guy at least 10 years older than me riding one just like this (putt-ing slowly along) in Big Bend National Park. The other picture is just to show the contest they appear to have running all the time -- no, I didn't enter. Might win and where would I put it ... lol.