I looked out my RV window the other day and noticed some motorcyles. When driving out the next day, I noticed quite a few more. Later, I did some checking around and learned that Harley-Davidson was sponsoring a Harley Rally in Huntsville, with most of the guests staying at the Space and Rocket Center campground (my current home) and the Marriott right next door. Looked like a couple hundred bikes showed up.

Friday afternoon, I grabbed my camera and went out to wander around, take some pictures, and meet some people.


Met a nice couple from Montgomery with a Winnebago and matching Harley -- or was it a Harley and matching Winnebago? Sat around and talked for awhile. Learned there was a big Harley-only night planned at the Huntsville Dragway on Saturday night. Planned to go, but rain on Saturday "dampened" my plans -- decided that watching motorcycles race on wet pavement might be exciting, but not exciting enough to get me off of the couch on what looked like it might be a very wet evening.

AS USUAL, CLICK ANY PICTURE TO GET A LARGER VIEW!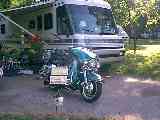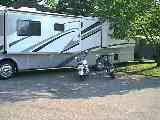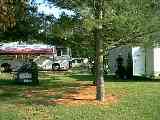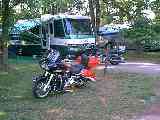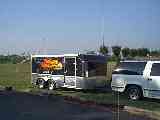 Left, for all you motorcycle and/or RV buffs, is one of the typical rigs these Rallyers showed up with. Looked like about a 40' with double slide-outs and a trailer big enough for the two Harleys -- who wouldn't want to travel this way? Then (on the right) I stopped and talked to the guy in the cowboy hat - he went on and on about how if I ever rode a Harley, I'd never want to get off ... hmmm, I wonder ...

Now, I didn't go around asking what these great-looking machines cost, but the guy on the left volunteered the info. The orange bike in the foreground is a 2000 Screamin' Eagle and the other is a 2001 -- also a Screamin' Eagle. They both ran in the $26000 range. Behind that sits an RV that cost somewhere over $100,000 -- makes one wonder what these people do for a living ... LOL. I understand many of them are doctors or lawyers and only weekend bikers. To the right, a neat-looking trailer.

And the other side of the parking lot -- at the Marriott next-door to the campground, bikers had also pretty much taken over. At left is the front entrance that usually has a couple of cars unloading. Looks like there still might be a little space for unloaders, if they weren't too intimidated. And the rest of the parking lot looked about the same (right picture), with a few cars interspersed among the bikes. From what I hear, all had a great time (except for the Huntsville rain) and the Marriott loved them.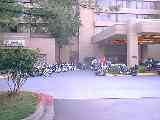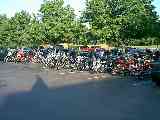 And that's about all I've got for now -- Click on "Back to Index" to peruse the titles or "Next Chapter" to see what else I've come up with.

34. Huntsville: Harley Rally

My Travel Log

Nothing in this site is copyrighted -- I'd be honored if you'd reuse anything you find here for your website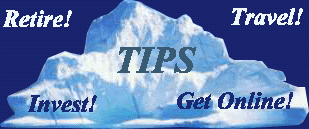 Click any photo for a larger view