Buying Building Supplies?  ... Beware of the Re-stocking Fee Scam

I went to buy some floor tile and some of those interlocking simulated hardwood floor panels. A friend recommended that I go to BJ's Carpet and Tile on U.S. 1 in Cocoa for the tile. While there, I noticed they also sold the hardwood -- specifically, the Columbia Clic and Columbia Clicette Laminate Flooring. The Clicette was cheapest at $2.79 per square foot.

I went down the road and checked at my neighborhood Lowe's Home Improvement Warehouse. Their flooring looked the same, but cost $3.06 per square foot. Seemed like BJ's had a better deal. Not true and here's why!

First thing I learned after buying everything I needed was that the flooring required a foam layer under it. Now this is simply cheap foam similar to what is used for packing, but BJ's price was $.60 per square foot, compared to only $.20 per square foot at Lowe's. When you're talking about 1000 square feet, that amounts to about a $400 difference.

The more aggravating difference, however, was the re-stocking fee charged by BJ's and/or their suppliers. I bought some greatly over-priced quarter-round edging ($600 worth), then decided that white quarter-round to match the walls made more sense. I was able to buy the same quantity of white plastic quarter-round at Lowe's for $120. When I returned the $600 product, however, BJ's claimed that it was considered a special order by their supplier Wheeler, Incorporated, and therefore required a 35% re-stocking fee -- their computer somehow figured that to be $222, which is actually over 37%. Later, when I returned 3 packages of the 40 or so of flooring that I purchased, they again claimed they were special order and charged another $138.

I called Wheeler and asked them about this re-stocking fee. They affirmed that they do, in fact, have this fee to cover the cost of returning the product to their shelves or to their supplier, the bookwork, etc. and that it's 25% for standard products and 35% for special orders. When I asked them the logic behind this fee being a percentage instead of a fixed fee -- i.e., it costs the same to restock a $100 box as it does a $1000 box -- they were unable to explain it other than to say it was their standard procedure. As to why everything I bought was special order -- they had no answer and suggested I talk to BJ's again.

I called Columbia -- they admitted they have these fees, but couldn't discuss the exact amounts with me since I "wasn't one of their distributors". I also asked them why re-stocking fees weren't a fixed amount instead of a percentage and they were unable to explain either.

Bottom line is that I saved $270 on the flooring, but spent $360 on re-stocking fees. I checked with Lowe's and learned they don't have and have never heard of re-stocking fees. Added to this is the $400 difference on the foam, so I actually spent about $500 more by going to BJ's. Next time, I go to Lowe's and avoid the Mom and Pop construction suppliers that make their money on hidden fees and unexpected charges.

Nothing in this site is copyrighted -- I'd be honored if you'd reuse anything you find here for your website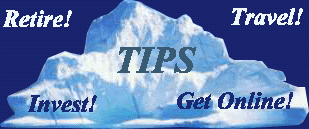 This has nothing much to do with RVs or travel or retirement .. but I learned this the hard way and want to pass on the information to whoever is interested. Below, I include company names, locations, and other details, but my message is this -- IF THE COMPANY YOU'RE BUYING FROM HAS A RE-STOCKING FEE, TELL THEM YOU WON'T PAY IT -- EITHER THEY AGREE TO DROP THE FEE OR YOU GO ELSEWHERE! There are plenty of places to buy building supplies without being subjected to these ridiculous fees -- the most obvious being Lowe's Home Improvement Warehouses or Home Depot.

The following businesses charge re-stocking fees:

B. J. Tile and Carpet Outlet, 633 S. Cocoa Blvd., Cocoa, FL 32922

Wheeler, Inc.,  4127 Seaboard Road, Orlando, FL 32808

Columbia Flooring, 100 Maxine Road, Danville, VA  24541