Nothing in this site is copyrighted -- I'd be honored if you'd reuse anything you find here for your website

If you're looking for serious Dear Oldguy advice,
CLICK HERE
.
This page is intended more for the male audience, but may be viewed by females with a liberal sense of humor. If you can't handle a little risque humor, please go elsewhere.

Letters include: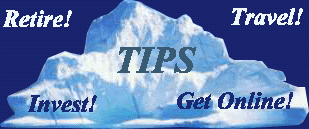 Dear Oldguy,

As a recent retiree, I've learned some valuable lessons on getting along with my spouse after retirement. I'd like to share these with others, in hopes that I can make a difference in their way of life and that of their loved ones.

It is important for men to remember that as women grow older it becomes harder for them to maintain the same quality of housekeeping they did when they were younger.  When men notice this, they should try not to yell.

Let me relate how I handle the situation.

When I chucked my job and took early retirement a year ago, it became necessary for Nancy to get a full-time job both for extra income and for health insurance benefits that we need.  She was a trained lab tech when we met thirty some years ago and was fortunate to land a job at the local medical center.

It was shortly after she started working at this job that I noticed that she was beginning to show her age.  I usually get home from fishing or hunting about the same time she gets home from work. Although she knows how hungry I am, she almost always says that she has to

rest for half an hour or so before she starts supper.  I try not to yell at her when this happens. Instead, I tell her to take her time.  I understand that she is not as young as she used to be.  I just tell her to wake me when she finally does get supper on the table.

She used to wash and dry the dishes as soon as we finished eating.  It is now not unusual for them to sit on the table for several hours after supper. I do what I can by reminding her several times each evening that they aren't cleaning themselves.  I know she appreciates this, as it does seem to help her get them done before she goes to bed.

Our washer and dryer are in the basement.  When she was younger, Nancy used to be able to go up and down the stairs all day and not get tired. Now that she is older she seems to get tired so much more quickly.  Sometimes she says she just can't make another trip down those steps.  I don't make a big issue of this.  As long as she finishes up the laundry the next evening I am willing to overlook it.

Not only that, but unless I need something ironed to wear to the Monday's lodge meeting or to Wednesday's or Saturday's poker club or to Tuesday's or Thursday's bowling or something like that, I will tell her to wait until the next evening to do the ironing.  This gives her a little more time to do some of those odds and ends things like shampooing the dog, vacuuming, or dusting.

Also, if I have had a really good day fishing, this allows her to gut and scale the fish at a more leisurely pace.  Nancy is starting to complain a little occasionally.  Not often, mind you, but just enough for me to notice. For example, she will say that it is difficult for her to find time to pay the monthly bills during her lunch hour.  In spite of her complaining, I continue to try to offer encouragement.  I tell her to stretch it out over two or even three days. That way she won't have to rush so much.  I also remind her that missing lunch completely now and then wouldn't hurt her any, if you know what I mean.

When doing simple jobs she seems to think she needs more rest periods than she used to have to take.  A couple of weeks ago she said she had to take a break when she was only half finished mowing the yard. I overlook comments like these because I realize it's just age talking. In fact, I try to not embarrass her when she needs these little extra rest breaks.  I tell her to fix herself a nice, big, cold glass of freshly squeezed lemonade and

just sit for a while.  I tell her that as long as she is making one for herself, she may as well make one for me and take her break by the hammock so she can talk with me until I fall asleep.

I could go on and on, but I think you know where I'm coming from.  I know that I probably look like a saint in the way I support Nancy on a daily basis.  I'm not saying that the ability to show this much consideration is easy.  Many men will find it difficult.  Some will find it impossible.  No one knows better than I do how frustrating women can become as they get older.  My purpose in writing this is simply to suggest that you make

the effort.  I realize that achieving the exemplary level of showing consideration I have attained is out of reach for the average man.

However guys, even if you just yell at your wife a little less often because of this article, I will consider that writing it was worthwhile.

-- Bruce Smith, San Diego, California




Dear Oldguy,

My husband wants a threesome with my best friend and me. What should I do?

-- Loving Wife

Dear Loving Wife,

Obviously, your husband cannot get enough of you! Knowing that there is only one of you, he can only settle for the next best thing -- your best friend. Far from being an issue, this can only bring you closer together. Why not get some of your old college roommates involved, too? If you are still apprehensive, maybe you should let him be with your friends without you. If you're still not sure, then just perform oral sex on him and cook him a nice meal while you think about it.

-- Oldguy

----------------------------------------------------------

Dear Oldguy,

My husband continually asks me to perform oral sex on him. What should I do?

-- Loving Wife

Dear Loving Wife,

Do it. Semen can help you lose weight and gives a youthful glow to your skin. Interestingly, men know this. His offer to allow you to perform oral sex on him is totally selfless. This shows he loves you. The best thing to do is to thank him by performing it twice a day; then cook him a nice meal.

-- Oldguy

----------------------------------------------------------

Dear Oldguy,

My husband has too many nights out with the boys. What should I do?

-- Loving Wife

Dear Loving Wife,

This is perfectly natural behavior and it should be encouraged. The man is a hunter and he needs to prove his prowess with other men. A night out chasing young single girls is great stress relief and can foster a more peaceful and relaxing home. Remember, nothing can rekindle your relationship better than the man being away for a day or two (it's great time to clean the house, too!). Just look at how emotional and happy he is when he returns to his stable home. The best thing to do when he returns home is for you and your best friend to perform oral sex on him. Then cook him a nice meal.

-- Oldguy

----------------------------------------------------------

Dear Oldguy,

My husband doesn't know where my clitoris is. What should I do?

-- Loving Wife

Dear Loving Wife,

Your clitoris is of no concern to your husband. If you must mess with it, do it on your own time or ask your best friend to help. You may wish to videotape yourself while doing this, and present it to your husband as a birthday gift. To ease your selfish guilt, perform oral sex on him and cook him a delicious meal.

-- Oldguy

----------------------------------------------------------

Dear Oldguy,

My husband is uninterested in foreplay. What should I do?

-- Loving Wife

Dear Loving Wife,

You are a bad person for bringing it up and should seek sensivity training. Foreplay to a man is very stressful and time consuming. Sex should be available to your husband on demand with no pesky requests for foreplay. What this means is that you do not love your man as much as you should; He should never have to work to get you in the mood. Stop being so selfish! Perhaps you can make it up to him by performing oral sex on him and cooking him a nice meal.

-- Oldguy

----------------------------------------------------------

Dear Oldguy,

My husband always has an orgasm, then rolls over and goes to sleep without giving me one. What should I do?

-- Loving Wife

Dear Loving Wife,

I'm not sure that I understand the problem. Perhaps you've forgotten to cook him a nice meal.

-- Oldguy

----------------------------------------------------------

Dear Oldguy,

I have been so blessed in my life. Great parents, great wife and kids, great job, and great education.

When I finally retired, I could hardly wait to spend time enjoying my favorite pastime -- bass fishing. I got my own little fishing boat and tried to get my wife to join me, but she just never liked fishing.  Finally, one day at the Bait &Tackle Shop, I got to talking to Sam the shop owner who it turned out loves bass fishing as much as I do.  We quickly became fishing buddies.  As I said the wife doesn't care about fishing; she not only refuses to join us she always complains that I spend too much time fishing.

A few weeks ago Sam and I had the best fishing trip ever.  Not only did I catch the most beautiful bass you've ever seen, only a few minutes later Sam must have caught his twin brother!  So I took a picture of Sam holding up the two nice bass that we caught and showed the picture to the wife hoping that maybe she'd get interested.  Instead she says she doesn't want me to go fishing at all anymore!  And she wants me to sell the boat!  I think she just doesn't like to see me enjoying myself.

What would you do?  Tell the wife to forget it and continue my hobby or quit fishing and sell the boat as she insists?  

Thanks,  A confused fisherman 

PS  I have enclosed the picture of Sam showing off the bass we caught.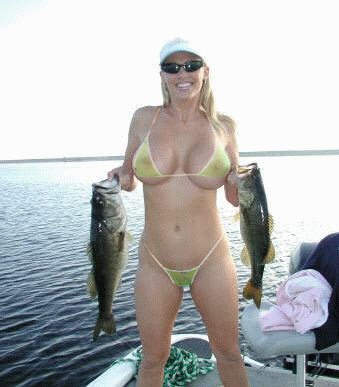 Dear Fisherman,

Get rid of that narrow minded wife.

-- Oldguy

Oldguy's Advice to a Loving Wife

Oldguy's Advice to a Confused Bass Fisherman