Nothing in this site is copyrighted -- I'd be honored if you'd reuse anything you find here for your website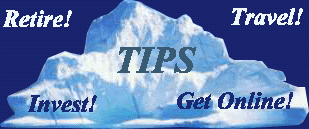 I recently bought a 1996 Suzuki Side-Kick Sport to tow behind our Pace Arrow. As usual, I did things backwards when I "chose" the toad. I've got a bad habit of buying a product, then afterwards going to check Consumer Reports or whatever to see if I made a good choice. Did it again! I relied pretty much on word-of-mouth from people who may or may not know what they're talking about. Luckily, I got a good deal on a car that works very well as a toad. It's got 4-wheel drive for wandering out into the Western deserts -- which I'll get to some day -- and it can be towed with minimum setup. I did, however, learn a couple of lessons after towing awhile, which I noted in My Travel Log Chapter 46.
After buying and towing for a few months, I began to wonder if there were internet sources for choosing the right tow vehicle. I ran into a couple of really good ones, plus a page of Towing Tips for your Toad that is just great!

Below, I've included links to the Towing World website and the MotorHome Magazine website. Click on the logos below to go to their pages. NOTE: Both recommend that you read your Owner's Manual, check with the manufacturer, and check your Warranty before assuming that the vehicle you're about to purchase is towable.

Towing World first presents a list of 7 cars which should never be towed, then you can jump to a page that lists all makes of towable vehicles in terms of Base Curb Weight, Speed/Distance Limits, if they're Towable with Manual and/or Automatic, EPA MPG City/Highway, and Base Retail Price.


MotorHome Magazine lists vehicles with the same info as Towing World (i.e., Base Curb Weight, etc.). Main difference is that Towing World provides easier access to vehicles by type, grouping years together if details are similar. MotorHome presents all 2000 cars on one page, all 2001 on one page, etc. for years from 1998-2003. If you have a specific vehicle and year in mind, MotorHome might be the best source. If you want general info on vehicles without regard to year, try Towing World.

MotorHome Magazine also has a variety of other areas, such as Road Tests, Lifestyles, MH Previews, Tech Talk, Scenic Byways, etc. that provide a mountain of information relative to RVing in general. Their Dinghy Towing page is just one of the many resources they include.


Click the Remco logo below for some great towing tips. Many you've probably already heard, but did you know that you should "Be careful when towing on thick gravel or sand in a parking lot-sometimes the front tires on your toad will turn in the opposite direction you are headed-(so you are in effect dragging the car through the gravel) the only way the wheels will straighten out is to stop the MH and get out and turn the steering wheel in the direction you are headed."? I didn't know that!

Remco also provides links to their pages, obviously selling their products, that describe details of Drive Shaft Couplings, Base Plate Fits, Axle-Locks, and Lube Pumps. They cover most of the tricks and gadgets that can be used to tow vehicles that wouldn't generally be towable.