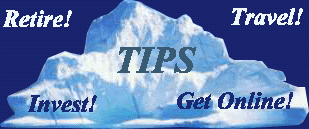 Nothing in this site is copyrighted -- I'd be honored if you'd reuse anything you find here for your website

Below, you'll find an index of my periodic Retirement Tips and RV Stuff newsletters. 

If you'd like to get on the distribution for the next newsletter, send me email at
rjhoffman@yahoo.com
.
If you're looking for a specific topic in one of the old newsletters, the Search box on the right will find it for you. It will also point you to other references to the topic throughout the website.